Sealed Box Calculator determines the internal dimensions for a sealed speaker enclosure. It can solve the box dimensions in both unconstrained (Golden Ratio) and constrained modes.
The Unconstrained mode determines the optimum dimensions (length, width, and depth) for a particular volume. The optimum volume is also known as the Golden Ratio. The Golden Ratio reduces or cancels out the standing waves inside an enclosure which improves sound quality and reduces distortion. Not all enclosures can be constructed to the Golden Ratio because of speaker/driver dimensions or vehicle room (see the Constrained Section below).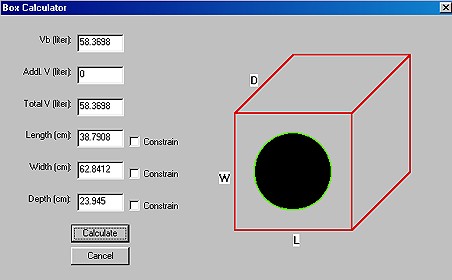 Checking the Constrain check box next to a dimension will set or hold dimensions to a set value. The unconstrained dimensions will be calculated. When constraining one value, the other two dimensions will be calculated as close to the Golden Ratio as possible. When constraining two values, the other dimension will be calculated without regard to the Golden Ratio.
Web Apps, Rich Internet Application, Technical Tools, Specifications, How to Guides, Training, Applications, Examples, Tutorials, Reviews, Answers, Test Review Resources, Analysis, Homework Solutions, Help, Data and Information for Engineers, Technicians, Teachers, Tutors, Researchers, K-12 Education, College and High School Students, Science Fair Projects and Scientists

Contact: aj@ajdesigner.com
Privacy Policy, Disclaimer and Terms
Copyright 2002-2015